What Our Customers
Are Saying...
"What a bargain... We will continue to vacation with you!"
- Lawrence & Shannon Seward
Tallahassee, Florida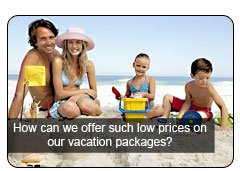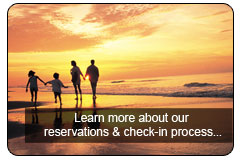 Your Orlando Getaway Vacation®

Enjoy an entire luxury vacation in fun-filled Orlando, FL for the price of one night in a regularly-priced hotel room! Supplies are limited!

Your Orlando Getaway Vacation® can include either:

---

Book confidently with our "No-Risk" guarantee!

3 Days &
2 Nights at the Holiday Inn @ Summer Bay Resort + $25 Dining Card

4 Days &
3 Nights at the Holiday Inn @ Summer Bay Resort + $25 Dining Card

Our Dining Cards are accepted at great restaurants in Orlando and central Florida!
Hotel selection is based upon availability

---

Holiday Inn @ Summer Bay Resort

Only 10 minutes from all the fun of Orlando, The Holiday Inn Express Hotel & Suites was built as a part of an RCI Gold Crown Resort complex. Nestled among tranquil waterways, our hotel pampers our guests with a deluxe continental breakfast, complimentary transportation to the theme parks, and organized daily activities. To learn more about this resort, including guest room and property amenities, nearby attractions, guest reviews, and much more, please 

click here for more information

... 

Orlando, Florida

America's family fun capital, Orlando is home to Walt Disney World, Sea World, and other famous mega-theme parks, including Discovery Cove and Universal Studios. There's more going on in the city than just Mickey and Goofy and the gang, though. Once you've had your fill of the theme parks, adults will also be able to choose from several outstanding golf courses in the area, a family-friendly science center, plenty of entertainment options, and a fine art museum.