What Our Customers
Are Saying...
"What a bargain... We will continue to vacation with you!"
- Lawrence & Shannon Seward
Tallahassee, Florida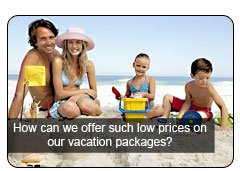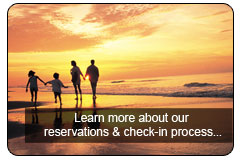 Your Hilton Head Getaway Vacation®

Enjoy an entire luxury vacation in relaxing Hilton Head Island, SC
for an amazingly low price! Reservations are limited!

Your Hilton Head Getaway Vacation® can include either:

---

Book confidently with our "No-Risk" guarantee!

3 Days &
2 Nights at the Holiday Inn Express + Your choice of Dinner, Golf, or Cruise for two*

4 Days &
3 Nights at the Holiday Inn Express + Your choice of Dinner, Golf, or Cruise for two*

*Choice of Free Golf, Dolphin Cruise or a $50 Dining Certificate when you arrive in Hilton Head!

There are no restricted dates, however reservation requests are is based upon hotel availability; you must qualify for this promotion.

---

Holiday Inn Express

The Holiday Inn Express is perfectly located on six acres of wooded land and surrounded by three lagoons. Coligny Beach is within walking distance, so what are you waiting for?

Hilton Head Island, South Carolina

Long known as a golfer's paradise, Hilton Head Island is heaven for any type of sports enthusiast. Play tennis, volleyball, polo, and championship golf on some of the best fairways in the United States - those are just a few of the many athletic options available. In fact, the island plays host to many prestigious sporting events throughout the year, all surrounded by sunny beaches and lush greenery.

Hilton Head is also the perfect place for a Romantic weekend getaway, enjoy a sunset cruise or explore Hilton Head's natural wonders. The Sea Pines Forest Preserve offers a close-up look at a swamp without having to get mucky - raised boardwalks provide a protected path for pedestrians. Don't miss the colorful Harbourtown Lighthouse, the island's signature icon. And, to top it all off, you will have a luxury hotel to experience it all.